Khaled Al Sabawi is the founder and president of MENA Geothermal. He is also the General Manager of Union Construction and Investment, MENA"s parent company and one of the largest real estate development and investment companies in Palestine. In 2010, Khaled was named "One of the World"s Top Energy Entrepreneurs" by Global Post. Under Khaled"s leadership, MENA Geothermal has installed the largest geothermal systems in the Middle East and North Africa and became a two-time winner of the Energy Globe Award twice (2009 and 2011), the world"s most prominent and prestigious environmental prize. In 2013, Khaled received the prestigious Takreem Award for Young Entrepreneur at their highly publicized awards ceremony in Paris, France. In October of 2014, Khaled was featured on the cover of Forbes Middle East with the caption beside his picture reading "Industry of the Impossible" in Arabic along with the a feature article.

Khaled received his Bachelors of Applied Science, Honors in Computer Engineer degree from the University of Waterloo in Canada in 2006 and his certification in the design and installation of geothermal heating and cooling systems in early 2007. Khaled is certified as a Commercial Geothermal Designer in Canada and an Accredited Geothermal Installer in the US, becoming the first certified geothermal engineer in the MENA region. Throughout his work at MENA Geothermal, Khaled innovated the installation of geothermal systems and patented the use of limestone powder, a natural by-product of Palestine"s limestone cutting industry, as a grout for filling geothermal boreholes. Such an innovation led to the increased efficiency of geothermal heating and cooling systems and significantly lowered their installation costs.

Khaled"s vision to bring sustainable development to Palestine and the MENA region is best explained in his highly watched TEDxRamallah talk. In addition to speaking at TEDxRamallah, Khaled is constantly invited to share his vision on university campuses around the world. He has spoken at McGill University in Canada, at Harvard University and MIT in the United States, and other universities and major green energy conferences around the world.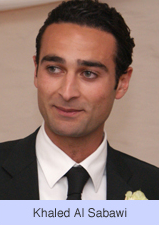 Related Videos